Electronic Press Kit (EPK)
The Uncle Devin Show® is an interactive, musical experience for children by renowned drummer and percussionist, Devin Walker. The show cultivates the minds of children through percussion instruments and is a dynamic cross between DC's Trouble Funk and Schoolhouse Rock!
A Go-Go Fun Day feat. Alexa Givens
No Such Thing As Good or Bad Hair!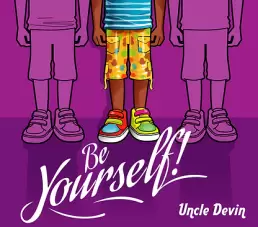 Be Yourself!
Through a blend of DC's Go-Go Music, Gospel, Hip-Hop and the African tradition, this family CD provides self-affirming music, through hardcore beats and rhythms, that children of all ages will love.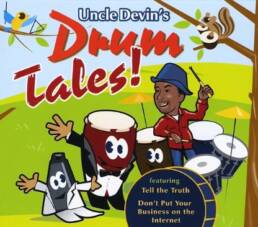 Drum Tales!
Inspired by the sounds of Washington, DC and Africa, this CD will have children moving their feet to funky drum and percussion rhythms as they learn about love, good health and truth. It will also introduce them to different percussion instruments.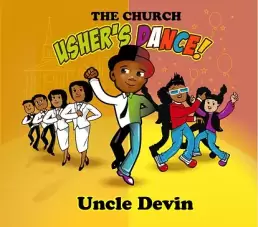 The Church Usher's Dance
This is a line-dance song for children that centers on an eight year old named Tré who unintentionally started a new dance craze by simply being himself. Four different versions.
Uncle Devin is a national leader in the children's music industry and an award-winning drummer and percussionist.  He is a former radio talk show host for Radio One, a current radio programmer for WPFW 89.3 FM in Washington, DC, and owns his own 24/7 online radio program called, "WEE Nation Radio."
His "Uncle Devin's Drum Tales" CD won a 2013 Parents' Choice Presentation Award and his children's book, "The ABC's of Percussion with Music CD," was named a 2015 National Parenting Publication Awards Bronze winner.  He is also a Teaching Artist with Wolf Trap Institute for Early Learning Through the Arts in Vienna, VA, and a former Artist Roster member (2014-2021) with Young Audiences/Arts for Learning – Maryland.
Uncle Devin has been selected to lead a workshop at the National Association of Independent Schools' (NAIS) People of Color Conference in Seattle, WA in December 2019 and was a panelist and a featured artist at the annual KindieFest Conference in Brooklyn, NY (2012 & 2013).  He has performed at the Kennedy Center, the National Theater, the Smithsonian's Discovery Theater, Governor's Island (NY), the World Cafe Live (Wilmington, DE), Kids Place Live – Sirius/XM Radio, Kids Really Rock (Boston, MA), Jammin' Java (VA), Overtown Youth Center (Miami, FL), numerous libraries, daycare centers, summer camps and more.  He was also the recipient of the 2013 Creative Curriculum Award for his volunteer work with the Homeless Children's Playtime Project's in Washington, DC, performing monthly music events for the children of the homeless.
Uncle Devin has been performing as a drummer and percussionist for over 30 years, playing with local and international groups such as Fertile Ground, Soul-In-Motion Players, Bottomland, the UMBC Jazz Ensemble, the Lafayette Gilchrist Project, the Contee AME Zion Church Connection, Sense of Urgency Band and Godisheus International Funk Band. One of Devin's greatest musical moments was when he accompanied on drums the Great Dizzy Gillespie during a 1985 Jazz Workshop in Baltimore, MD. Devin's vast experience as a social justice activist is expressed in his music.
"Uncle Devin's Drum Tales takes an innovative and progressive approach to music, self-awareness, confidence and fun, and is a wonderful album that children, parents and educators will all find beneficial."
Uncle Devin's Drum Tales!
I Give it 5 Tiny Fingers Up!
(Uncle Devin's) music is rather productive with varied vocals, spoken segments, varied percussion, multi-ethnic musical styles, and great lyrics. This one will be a favorite for parents, but the children will get a bigger kick out of the music. I give it five tiny fingers up!"
Everything a children's entertainer should be!
"Uncle Devin is everything a children's entertainer should be. Always engaging, never lacking in energy and full to the brim with fun. The former youth counselor is interested in educating young children from everything to the Bible through to good health and hygiene. It's the album you want your child to listen to. Uncle Devin's kind voice always praises and never preaches. Ultimately, Uncle Devin's Drum Tales is like a vitamin for children. It guarantees a healthy dose of happiness and a good shot self-esteem."
Percussion for Childrenatit's best!
"If you have ever doubted the role percussion and drums play within modern music, look no further than Drum Tales! to reassure you of its importance. This children's album is the handiwork of musician Devin Walker, who goes by the title Uncle Devin for this release. His goal is to produce live shows in order to teach children valuable lessons through the form of music, and he seems to do just that. Since his musical expertise lies within the drum family, he has created an album that relies heavily on drum and percussion instruments including regular and electronic drum sets, maracas, and triangles. 4 stars out of 5
Uncle Devin Loves Kids!
"The Uncle Devin Show is pure edutainment at its finest. Bringing a message of love while sharing helpful life knowledge. The content of his songs covers everything from having a bad day, to proper eating habits, to staying out of trouble so you can focus on the more important things. Devin's musical background and excellent musicianship shines through on each song. He is able to find a balance between catchy grooves, memorable melodies, and life lessons every child needs to hear. He has one of the most creative websites I have seen in a while so be sure to check that out."hat's this item about? What makes it interesting?"